63rd Tilford Bach Festival
11-14 June 2015
Concerts in reverse order last first
Dedicated to the memory of our Founder – Denys Darlow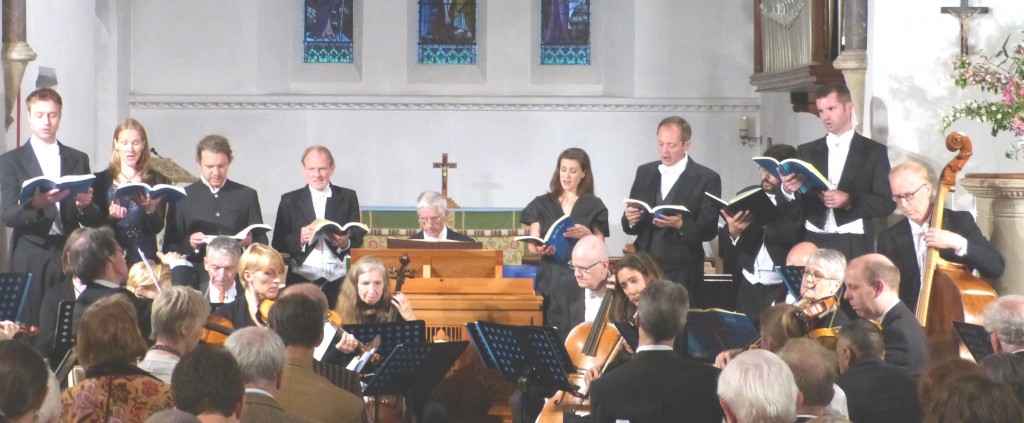 From left: Benjamin Appl, Joanne Lunn, Daniel Taylor, Charles Daniels, Elizabeth Cragg, Robin Blaze, Mark Wilde, Edward Grint
Sunday 14 June
JS Bach's St Matthew Passion
One voice per part version
Sopranos: Joanne Lunn, Elizabeth Cragg
Counter-tenors: Daniel Taylor, Robin Blaze
Tenors: Charles Daniels (Evangelist), Mark Wilde
Basses: Benjamin Appl (Jesus) Edward Grint
London Handel Orchestra,  Adrian Butterfield, conductor
This concert was sponsored by many generous donors
 Comments received:
"How does a critic begin to describe the most perfectly performed musical experience in many years? By listing, of course, in a roll of honour, those who created it, beginning with the masterly Adrian Butterfield, whose sure direction (from the violin) and complete immersion in the idiom was undoubtedly responsible for the exceptional quality of the performance." Read full review by Barry Creasy in MusicOMH HERE
"Hearing that wonderful music in that small church ,and so beautifully sung and played ,made one feel one was hearing the Passion story for the first time –and was involved with it ."
"Sunday night was without doubt, a once in a lifetime event, we were bowled over with it's brilliance"
"What a wonderful experience it was to sit and listen to the magnificent performance of the St. Matthew Passion last night yes a huge achievement for Adrian"
"I must take my hat off to Charles Daniels for his outstanding performance in portraying the Evangelist so eloquently and dramatically, whilst also tackling tenor arias and choruses. What a performance!"
"It was an extraordinary evening of music making and a really memorable one. I enjoyed every note. The singers did a momentous task (especially given their pm rehearsal). It was a real joy to hear Charles Daniels sing the Evangelist and I did enjoy the wonderful drama."
"What a treat this weekend was – especially last evening!"
"Tuesday evening (SJSS) will go down as one of the memorable concerts which we enjoy remembering.  We like hearing the Passions done with small forces anyway and it really worked so well on Tuesday."
"I first heard the TBS perform getting on for 30 years ago, I think, and it was the Passion with Anthony Rolfe Johnson as the Evangelist but last Sunday's performance was comfortably the best I have heard TBS or otherwise. This was partly because because it seemed so authentic, the audience/congregation participation, the brilliant orchestra playing, and the proximity of the performers, but especially the clarity of the one voice per part mode of performance- just brilliant. I imagine we were already very moved before his daughter reminded us of how proud Denys Darlow would have been- a fitting legacy indeed."
"Denys and JSB would be proud!"
"The music of the St Matthew Passion is still going through my head. The performance was truly magnificent with the content of the text powerfully communicated!"
"I keep thinking about Sunday evening, one of the most fantastic concerts I have ever been to, just magic!!"
This was the finale with a performance of Bach's St Matthew Passion for which the members had donated an extra £6000. The church was packed for Sunday's performance of this dramatic and moving work, which is one of the pinnacles of western music and a very difficult piece to perform. The list of soloists indicated that this was going to be something really special; nine singers including world-famous Joanne Lunn, Elizabeth Cragg, Daniel Taylor, Charles Daniels, Robin Blaze and the BBC New Generation Artist Benjamin Appl.
Adrian Butterfield directed and led the London Handel Orchestra from the violin in true Baroque style and children from Edgeborough School sang the ripieno parts. It is good to see local children taking an increasingly active part in TBS activities and the following week they took part in a repeat performance in St John's Smith Square.
The nine soloists not only performed the arias and the roles of Evangelist, Jesus and others in the passion story, they also formed the choir. This made for great clarity of sound in the choruses, enabling listeners to appreciate fully the strands of Bach's intricate counterpoint. In the loud dramatic choruses such as the shout 'Barabbas' and the 'Lightnings and Thunders' passage the church chancel acted as a sound box and the volume could have been that of a choir of a hundred.
It is hard to pick out highlights in a performance of such consistent high quality. Each aria is in effect a duet between singer and instrument, and some exquisite combinations of timbre were achieved, notably in the plaintive violin accompaniment to the alto aria 'Have mercy, Lord' and the ethereal sound of soprano, flute and oboe in 'For love my saviour now is dying'.
Appropriately, this performance was dedicated to the late Denys Darlow who founded the Tilford Bach Society in 1952 and died earlier this year. Several members of his family were present at the festival. Shortly before the performance of the Passion, which was one of his favourite pieces, his ashes were laid to rest in the graveyard in the presence of family and many musicians who had played for him – this added great poignancy to the whole occasion.
---
Saturday 13 June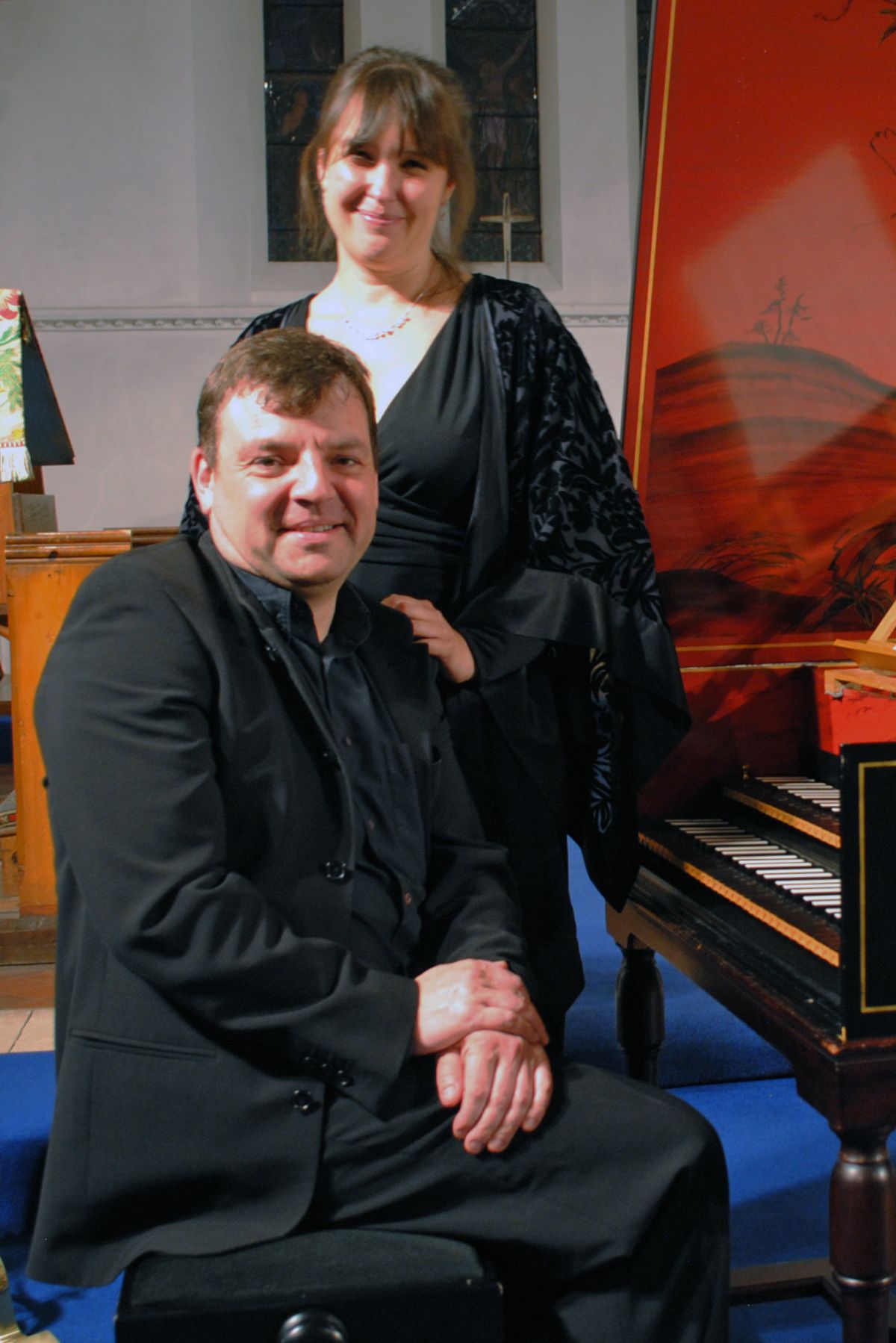 Anna Magdalena Bach & The "Goldbergs
Menuet BWV Anh.121 (anon)
Aria di Giovannini: Wills du dein Herz mir schenken BWV518 (accomp by J S Bach)
Air in C minor (from French Suite No. 2 BWV 813) (JS Bach)
Aria: Gedenke doch, mein Geist, zurücke BWV 509 (anon)
Talk:  An introduction to the Goldberg Variations – on an aria by Anna Magdalena?
Recitative and Aria: Schlummert ein BWV82/2,3 (J S Bach)
The Goldberg Variations (BWV 988)
Steven Devine (harpsichord), Kate Semmens, soprano
If you are insomniac you may resort to counting sheep. If you were Count Kaiserling, the Russian Ambassador at the court of the Elector of Hanover in the 18th century, you had a personal harpsichordist stationed in the next room and he would have the job of playing music to help you relax into unconsciousness.
We can thank Count Kaiserling for his extravagant arrangement because it gave rise to the creation of The Goldberg Variations (BWV988), a set of 30 keyboard variations on a basic aria, composed by JS Bach. Or was it? The true origins of this wonderful music may arise, at least partly, from the musical talent of Anna Magdalena Bach, the composer's second wife. Music historians are not sure to whom precisely they should credit the composition of the basic aria.
This wonderful piece was played by the talented Steven Devine, on his specially made double keyboard instrument. This second concert opened with some short pieces by Bach, including two arias sung by the captivating soprano Kate Semmens.
Steven then gave an illuminating talk describing the background to the Goldberg Variations followed by Kate Semmens singing the Recitative and Aria Slummert ein (BWV 82), this being the basis of the variations.
Following the interval, when the audience enjoyed its wine and champagne in the churchyard, Steven Devine and his harpsichord rendered 60 minutes of music that may have sent Count Kairserling to sleep, but had TBS music lovers' rapt attention.
---
 Friday 12 June
Orchestral Concert
JS Bach Orchestral Suite No 1
JS Bach Orchestral Suite No 4
JS Bach Concerto for 3 violins in D major BWV064
JS Bach Brandenburg Concerto No 4
London Handel Orchestra directed by Adrian Butterfield
These are some of Bach's most popular pieces and are very familiar to Bach lovers, and so are "pretty standard stuff". But not at Tilford. The London Handel Orchestra made the pieces really sparkle and the relatively small number of musicians gave the sound added clarity. Much of Bach's music is effectively dance music with gavottes, minuets and bourées. There were many thrilling passages including some inspiring virtuoso passages on each instrument. The complexity of the music with the orchestra dividing into so many voices that weave around each other is pure delight when heard in a building such as the Tilford church. Several in the audience said they had never heard these pieces performed so well.
---
Thursday 11 June 
Baroque dance performance and mini concert by pupils at Edgeborough School, GU10 3AH, with Mary Collins, Steve Player, Laurence Cummings & Adrian Butterfield and music by Pécour, Corelli and Bach.
Download Programme
How do you introduce children to the music of Bach? Simple—let them dance to it. Take forty children from Edgeborough and Waverley Abbey Schools, two charismatic musicians and two passionate teachers of historical dance and give them three hours together.
Then let them perform the results to an enthusiastic audience as a highly novel opening to the 2015 Tilford Bach Festival. Mary Collins and Steven Player are well known internationally as early dance specialists and not only taught the children the intricate steps and configurations of an 18th century minuet but also introduced them to the social etiquette of the time. Dance had been so important in baroque times when the ability to dance was essential for anyone at Court and when soldiers danced to keep fit for battle!
The intense concentration of these 10 to 11-year-olds – a fair proportion of boys as well as girls – was impressive. Mary Collins and Steven Player appeared in full 18th century costume to explain and demonstrate a variety of dances. They were accompanied by Adrian Butterfield (violin) and Laurence Cummings (harpsichord), two of Britain's most talented and innovative exponents of baroque music, who also spoke about the instruments and music of the period.
The concert ended with performers and audience joining hands to dance a Farandole, a forerunner of the conga, which coiled and twisted hilariously around the dance floor.